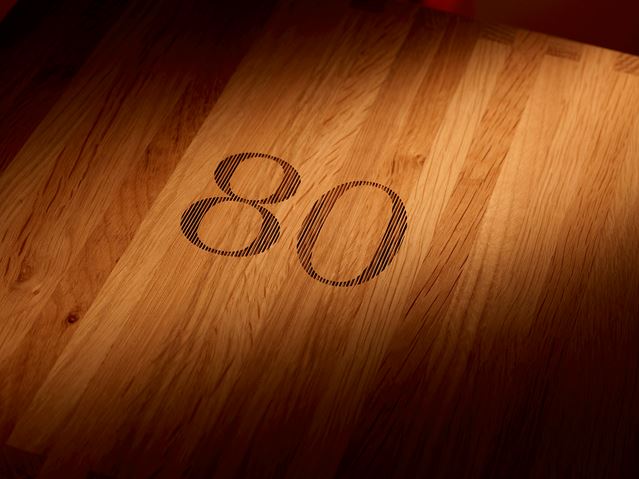 We are living in the age of ancient whisky. 2021 brought the oldest Irish, Japanese and Scottish whiskies the world had ever seen. A 45-year-old expression from the original Midleton distillery in Cork – the oldest single pot still whiskey yet released – briefly graced the shelves in April before disappearing into private hands. This was followed in September by a record breaking 55-year-old Yamazaki comprised partly of rare Japanese oak casks filled in the early-1960s. These are exceptionally long-aged whiskies in their respective categories, each offering an atypical style impossible to find in their younger counterparts. But the oldest whisky yet released by independent bottler Gordon & MacPhail was approaching middle age before either of them ran off the still.
After 80 years in oak, independent bottlers G&M committed the Glenlivet Generations to glass. It was drawn from a cask filled in 1940 and laid down by George Urquhart, the son of the firm's founder. Design duties for the decanters went to architect Sir David Adjaye, whose other work includes the National Museum of African American History and Culture in Washington DC. The presentation, the advanced age and provenance, and the ensuing buzz around this unique bottling seem to herald the emergence of a new style of whisky. An ultra-premium category of super-aged malt for today's intensely competitive collectors.
Glenlivet Generations took the oldest whisky crown from a bottle of 78-year-old Macallan that had briefly come to market in 2020 as part of the distillery's vanishingly rare Red Collection. At the time of writing, Macallan has inched ahead in the oldest whisky stakes with its extravagantly presented 81-year-old 'The Reach'. The relatively short time between these releases suggests that firms well-stocked enough to compete are engaged in a race to the limits of cask ageing. Their aim being to satisfy demand for ever rarer, more exceptional, and older whiskies. But where, we might ask, will all of this end? What is the oldest a whisky can get? And crucially, is chasing increasingly loft age statements a good idea?
Playing the Long Game
'I moved into my parent's house a couple of months ago, so my grandpa is up on the wall there, looking over my shoulder.' As operations director, Stuart Urquhart is responsible for carrying on G&M's legacy. George Urquhart keeps watch from his portrait on the office wall while we talk. 'It's a family business, so we're working with stocks that were filled by George and John Urquhart and we're bringing to life things that they started. George was a pioneer, he was laying down casks of single malt long before others were. His work allowed us to become pioneers in greatly aged whisky.'
What is the sense of responsibility like when you're working on a project like the Glenlivet Generations?
The question with the 80-year-old Glenlivet was 'how do we showcase this in a way that's exceptional?' Bottling a single cask is relatively straightforward but the presentation was a new standard for us, it was the most complex piece of packaging we've ever produced. It took time, it stretched our supply chain, working though the pandemic was a challenge as well. It took a huge amount of effort across the different businesses to make sure that we met the right quality. It was our focus for several years to bring this to market, but it's there now and thankfully it's been well-received.
Stuart is being modest, here. The first of the 250 decanters fetched a hammer price of HK$1.5m at Sotheby's in Hong Kong in October 2021 – just north of £140,000. Writing for Whiskyfun.com, Whisky Show Old & Rare host Angus MacRaild awarded Glenlivet Generations an exceptional score of 93 points, praising its freshness, balance and complexity and describing the experience as 'astounding and genuinely thrilling.' For the team at G&M, the hard work has paid off.
What does it take to age a whisky for 80 years or more?
When you produce something that's pushing the boundaries of greatly aged whisky, you have to make sure the quality is strong. If the wood character overtakes the spirit character then it's not a quality whisky and we wouldn't be happy to bring it to bottle. So we're always looking for the perfect balance and the right time.
We keep our warehouses full, because we believe that a full warehouse helps to mature whisky. The casks all work together to maintain an ambient temperature all year round. The energy required to raise the temperature of 6,000 casks is much more than it is for one in isolation. So we keep very old casks on at ground level and monitor them continually, but the progression is quite slow. We also use a lot of what're called 'transport sherry casks' that held sherry to come across to the UK. These have thicker staves – they're quite robust, so they give a really good long-term maturation.
Some spirit characters are light and floral, they won't be the ones that are going to go for 80 years. You need a substantial character that can take long-term maturation. That's why Glenlivet, Mortlach, Glen Grant, these are the kinds of spirits that work really well. But it's still all about balance. If you can't tell that it's a Glenlivet or a Mortlach then the cask has done too much. You have to know it's a Glenlivet, you have to know it's been in a sherry cask and then you have to see those flavours and aromas from both aspects balancing together.
So the right type of cask is key?
My grandfather used to say 'a great whisky is a great spirit in a good cask, a great spirit in a bad cask is bad whisky.' We have to make sure we're matching spirit and wood effectively. We invest heavily in our wood policy to make sure we have quality casks running though. We work with three key suppliers in Jerez and with Speyside Cooperage for our Bourbon and virgin oak casks.
We also still work with Williams & Humbert, for example. Some of the casks that we've used for generations now have been from them. We used to bottle sherry in our basement up until the late-1970s and those casks could've been 20 years old before they were even used for whisky. So, these casks could be in excess of 100 years old.
Checking the condition of the staves, making sure they're monitored routinely is a crucial aspect of long-ageing. If this whisky had been mature in a different type of cask that was more active it would've peaked decades ago. The slow maturation through thicker staves is key to it.
When your forebears laid these whiskies down, did they know they had this kind of ageing potential?
It was never the intention, from what I know it's something that's evolved over time. But today we're filling casks of whisky that we feel can go to 80-years-old. We'll start with series of casks from our partners and they'll spend the first 10 years maturing off-site, then we'll bring them to our sites and sample them. At that point we grade them and decide what we expect to use them for. Some casks we'll say are getting ready now and we'll expect to use them in the next few years.
Some we might decide have greater potential and we'll use what we've learned over the years to make that decision. We're making sure we have a view to filling casks for 80 years or more because we now produce an 80-year-old whisky. But it's from a parcel rather than a set cask at this early stage. Over the parcel's lifetime we'll start refining it down.
Speaking to Stuart it becomes increasingly clear that producing single malt this ancient isn't just about putting a sherry butt somewhere cool and letting the decades do their thing. Bottlings like the Glenlivet in question are the culmination of decades of distilling and countless thousands of casks. A whole ecosystem of whisky must exist to produce just a few, statistically unlikely whiskies capable of reaching this kind of age.
You mentioned the need to bottle whisky when the balance is perfect. Do you ever feel like you're playing chicken with a particular cask and trying not to blink first?
I still do the cask selection for all of our products – it's a part of the job I really enjoy. We try to review every cask which if it's young might be every two years, but if it's very old we might be reviewing it every month just to see how close it's getting, to see when is the right time for bottling.
Casks can be quite stable, but what you're concerned about is if it suddenly changes. What if it picks up a lot of cask character? A lesson I learned when I started doing this job is that you can't keep it forever. At some point you have to bottle it, you have to make a decision and stand by it. In some ways it's a confidence thing, but it's also an experience thing. The lessons that I've learned from Ewen Mackintosh who did my role before me, is that you can make a decision and justify it using your experience. A cask might have got better but you can just say you're happy with the quality of a cask that day and bottle it.
With the current 80-year-old we kept reviewing it and asking ourselves 'is it at its peak? Can it go for longer?' but another factor that's considered is our current requirement for products. What can we bottle and what can we leave behind?
So your work today is really about bridging the gap between your predecessors and the next generation?
Whisky is fascinating in that a lot of what I'm involved in today, I won't be around when it comes to market. As a business we take credit for the work of people who worked in the business before. Family and whisky go well together because they're both about leaving things behind for the long-term. We have the ability as a family-owned business and a group of colleagues to know that we can be successful but also leave potential back for future generations.
A key part of my role is looking after bulk stocks and making sure the business has greater potential when I leave my role than it did when I moved into it. So that means more casks with more potential so that we can continue re-investing to make sure there's more stock.
With our new distillery, the Cairn, coming online and Benromach working away, our inventory as a business overall is growing. So for the next ten years we'll be filling a warehouse every year with stock from these three sources; from our third-party fillings, from Benromach and from the Cairn.
As the demand for exceptionally old whisky continues, we might ask what the upper limit of ageing is. Could there be a future 100-year-old malt in your warehouses today?
It's technically possible, if you look at the maths of it. In our warehouses we get quite a good balance of evaporation of ethanol and water, which means strength stays good. So I can calculate that we could get to 100 years but the question is should we?
We've still got to meet our quality criteria and time will tell if that's possible. The key thing for us to release something of that age is that it needs be quality whisky that we'd happily stand behind. The same quality standard that we apply to our Benromach 15 Year Old has to apply to the top end of our portfolio. With the Glenlivet 80 Year Old we're really happy with the quality. That was a cask that still clearly Glenlivet, the wood impact was there but it wasn't overpowering, it was an exceptional part of our portfolio. If we had a cask that was getting to 100-years-old and it was still showing that kind of quality then it's possible – but time will tell, nothing's guaranteed.
Is there anything maturing at the moment that you're particularly excited about?
We have a 25 year rolling plan for bulk stocks to help us plan effectively for what the future holds. We've also got quite a detailed plan for the next five years. We've always got new stocks coming through and it's about balancing the portfolio and making sure that potential stays for the future by releasing casks at the right time. Every year we have the ability to release great products – which is down to the work of previous colleagues and family members working in the business.
There are things I do look forward to, though. I've been working in the sample room since 2021, so next year will be the first time I'll see a Benromach 10 Year Old that I've seen through from start to finish. We've got stock from the 40s, 50s, 60s, 70s, 80s and 90s – all of which have exceptional casks. Some will be bottled in the next few years and some will be kept back for long-term projects. It's a hard job, but somebody's got to renew them all.
If you would like to learn more about old and rare Glenlivet then join us in tasting some of the distillery's finest whiskies from the 1950's and 60's in our Whisky Show: Old & Rare Glenlivet Masterclass 4pm, Sunday 20 March.