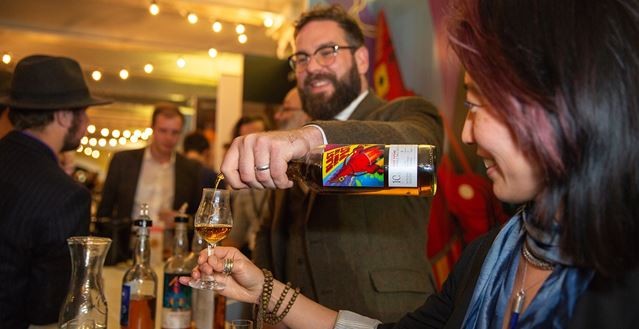 The health and safety of our guests, exhibitors and staff remains our top priority, and we want to assure you that our team is working with the venue and health and safety advisors to create the safest possible environment for the show.
On Friday 17th July the Government gave the green light for business events, conferences and event centres to resume from 1 October, provided appropriate social distancing measures are in place. The guidance includes a number of steps that can be applied to keep both guests and staff safe.
Beyond our standard health and safety protocols and the measures listed in the above, we will also be rolling out additional procedures to mitigate risk, as detailed below.
Planned procedures to reduce the risk and transfer of COVID-19 at Whisky Show.*
We have reduced the number of tickets on sale and will hosting the show at a reduced capacity
On arrival and before having their tickets scanned, attendees will have their temperature checked and be asked to sanitise their hands
There will be no physical show guide, instead every guest will have access to an online version
The show buffet will be replaced with a boxed meal
We are increasing the spaces between exhibitor stands to allow for greater social distancing
Masterclasses and the Johnnie Walker blending sessions will be held at a reduced number
We will only accept payments via card or phone, not cash
Hand sanitiser will be available throughout the venue
There will be enhanced and regular venue-wide cleaning and waste disposal will be in operation throughout the event
We will have a dedicated entrance and exit to the show to maintain a covid-safe flow of attendees
Queues (entrance/shop/brasserie/cloakroom/toilets) will be monitored and queuing areas will be clearly demarcated
Cloakroom facilities are as yet to be determined and will depend on social distancing measures required at the time
All attendees are encouraged to wear face masks when not tasting
*Please note these measures are subject to change and are dependent on government guidelines at the date of the show.
As per the requirements introduced by the government we will be required to keep a log of attendees for track and trace purposes. As such, you will be asked to provide your full name and contact phone number when you arrive at the show. This data will kept for 21 days, thereafter destroyed.
We continue to monitor the situation daily and will adhere to all government guidelines regarding events. In order to ensure a safe event, we also ask all our visitors to work with us to ensure that social distancing is respected.
Virtual Whisky Show
For those unable to attend this year, we are thrilled to announce that Whisky Show will also be available online. The virtual element will allow whisky lovers from all over the world to be there in spirit, and will feature a line-up of incredible experiences for all to enjoy.
The live stream will include stage demos, VIP talks with industry heavyweights and even exclusive tastings for which tasting packs will be available. More details will be published as they are confirmed.
Whisky Show will be a little different this year, although we are sure it will be one of our most memorable shows yet.
Thank you.
WHISKY SHOW REFUND POLICY: If you wish to cancel your ticket prior to the show then we will issue you with a full refund. As the capacity is so limited this year, all we request is that this is done with enough time for us to resell your ticket(s.)
Friday 16:00 - 21:00

Day ticket

29 Sep 2023

Saturday 11:30 - 18:30

Day ticket

30 Sep 2023

Sunday 11:30 - 18:30

Day ticket

1 Oct 2023

Weekend

Ticket

30 Sep-1 Oct 2023

Three Day

Ticket

29 Sep-1 Oct 2023