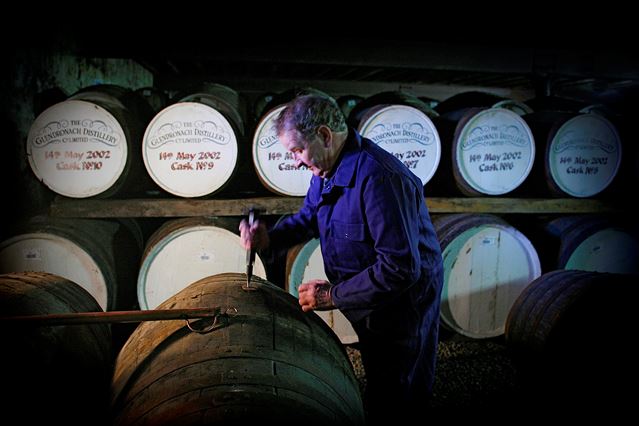 The words 'sherry cask' have meant many things over the years and still do to this day. As the whisky industry has changed, so have the casks supplied from Spain and the way in which they have found their way to Scotland – once the by-product of transporting sherry to thirsty drinkers, they are now specially made to careful specification.
With those changes in cask have come changes in the whiskies matured in them, and in this class, we're going to taste our way through a selection of drams which show quite just how much sherry-matured whisky has changed over the decades, as well as how variable and different old sherry-cask whiskies were to each other.
This set contains a 1cl sample of each of the following whiskies.
Glendronach 12 Year Old, Bot.1980s, 43%
Angus MacRaild – What you might easily call 'Macallan killers', these super dark batches of 12-year-old Glendronach contained some of the most stunningly earthy, darkly fruity and luscious sherried whisky. The direct-fired, heavy Glendronach distillate matches perfectly with brilliant sherrywood in these bottlings.
Glenrothes 1954, 28 Year Old, Sherry Cask, Connoisseurs Choice, 40%
Sukhinder Singh – Old Connoisseur's Choice can be a miss or hit, but this one is absolutely superb. Old school sherry at its best even at 40%, expect a rich, fruity and moreish dram. Glenrothes is a classic Speyside malt, and liquid from this era has a slight oiliness, lots of candied orange, and dark fruits.
Glenfarclas 15 Year Old, Bot.1970s, 46%
Sukhinder Singh – Somehow always forgotten, Glenfarclas is a big oily spirit which needs decades to develop and15-years-old is really the youngest it comes to life at. These old 1970s' bottlings always have the autumnal, forest floor, mushroom, musty character which I really like. The 15s are always bottled at 46%, which helps amplify the character of the distillery.
Glen Grant 1967, 30 Year Old, Signatory, Cask #2390, 51.8%
Jonny McMillan – Glen Grant is one of those distilleries that works perfectly in sherry wood and always somehow manages to show plenty of distillery character over even the most powerful of casks. This bottling, from the mighty Signatory Vintages shows a wonderful balance of fruity old style Speyside distillate with wonderfully rich old sherry wood.
Tamnavulin 1966, 35 Year Old, Sherry Cask, Distillery Bottling, 52.6%
Jonny McMillan – Although there's perhaps not a lot of competition, I think this probably is the best Tamnavulin ever bottled... It's a thick, chewy style of sherry wood moving almost towards a cognac-like rancio. I've been saving this bottle for some time, and I think it'll be able to stand up to the more famous names in the line-up.
Tamdhu 1973, Bot.2008, Gordon & MacPhail, Reserve Cask #3230, 56%
Angus MacRaild – One of the best kept secrets for many years in whisky was old school sherried Tamdhu. These early 1970s' distillations matured full term in proper, old-school sherry casks are almost always sublime. This one is rich, fat, uber-fruity and a gorgeous demonstration of this legendary style.