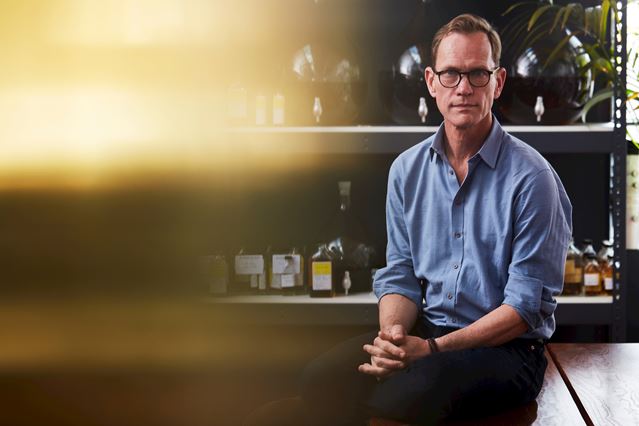 It's hard to define what we're trying to create, but we know it when we achieve it.
I want everything we make to be of compelling quality, and everyone at Compass Box has the same aim. It's about creating whisky with a distinctive character that calls the drinker back to the glass. Something inherently delicious. Everything starts with the idea. These are the nuggets of gold, and you must always be open to them - make it a conscious endeavour, regularly allow yourself the time and headspace to discover - and be ready when they show themselves.
I keep collections of ideas everywhere. Digital notebooks on my laptop, including one dedicated to names. An analogue file in the backpack I carry almost everywhere. Then more stored behind my desk, and even ideas from years ago carefully filed away in a cabinet. It's fun to go back to those old ones, because ideas can age well. Tom Waits once said: "That which you accumulated without knowing it becomes your real treasure." He was talking about life, but as things change, the relevance of an idea can too. Some may just have been a little ahead of their time. I write everything down because ideas are too precious to lose, although the really good ones never let you forget them. Ideas can come from anywhere - there's no formula. We've been inspired by wine, beer, a song title, a picture. By sunshine.
Once we decide which ideas to work on, the collaboration begins with the whiskymaking team Jill Boyd (Whiskymaker), James Saxon (Assistant Whiskymaker), and Elif Yontucu (Head of Operations). There's a Japanese proverb I really believe in: "None of us is as smart as all of us." You need different perspectives and points of view to make an idea stronger. To hone it. 'What if' is one of my favourite things to say. 'What if we crossed this with that?'
Most of our whisky projects start with one core ingredient. The original No Name was built around one parcel of whisky from the Ardbeg distillery. For No Name, No. 2 it was a parcel of Sherry cask-aged whisky from the Caol Ila distillery. And for Stranger & Stranger it was an old whisky from the Glenlossie distillery. We usually start with one ingredient and try to add real dimension to it. How could we bring sweetness to something that isn't naturally so? How do we tease out the deliciousness? What if we added a bit of this? A little of that? I'll sit around the table with the team and our long conversations lead to more recipe variations.
Now we start blending at a small scale, perhaps just 50 or 100ml, leave them for a day or two, then taste. Often, you think you'll know intuitively what a prototype is going to taste like. But thanks to the unpredictable chemistry of blending, we're often surprised. This iterative process usually continues for months of tasting and talking when we're working on a new whisky. Sometimes it takes years.
And here's proof of the power of whisky: it can make something as plain as a spreadsheet seem magical. Over time you have 30 or 40 recipe iterations on individual tabs and you see a whisky's story unfold. Each is a chapter in the narrative as the recipe shifts and refines. You can track assumptions challenged and lessons learned as the final blend emerges. Sometimes you just know when it's done. It's fabulous, striking that perfect chord with the idea you had. Other times, you achieve something really compelling but you can't resist tweaking and noodling. Then the process only comes to an end because Elif tells us we need to bottle it or people will never get to taste it!
I contend that what we do and how we do it is absolutely an art form. Blending is creativity. It's how we make something that's distinctly ours. Until we release it, of course. Then it's not ours, it's yours.
Make sure to catch Compass Box at Whisky Show this October!
Friday 16:00 - 21:00

Day ticket

29 Sep 2023

Saturday 11:30 - 18:30

Day ticket

30 Sep 2023

Sunday 11:30 - 18:30

Day ticket

1 Oct 2023

Weekend

Ticket

30 Sep-1 Oct 2023

Three Day

Ticket

29 Sep-1 Oct 2023