We focus our show bottlings on each year's theme, developing not only the look and feel of the whiskies, but selecting casks that give an insight into our thoughts on the topic.
2018 is about the future of whisky, and we are looking back and forward to see where we've come from and where we are going.
We will be releasing two sets of bottlings at the show: The Whisky Show 10th Anniversary series and The Future of Whisky:
The Future of Whisky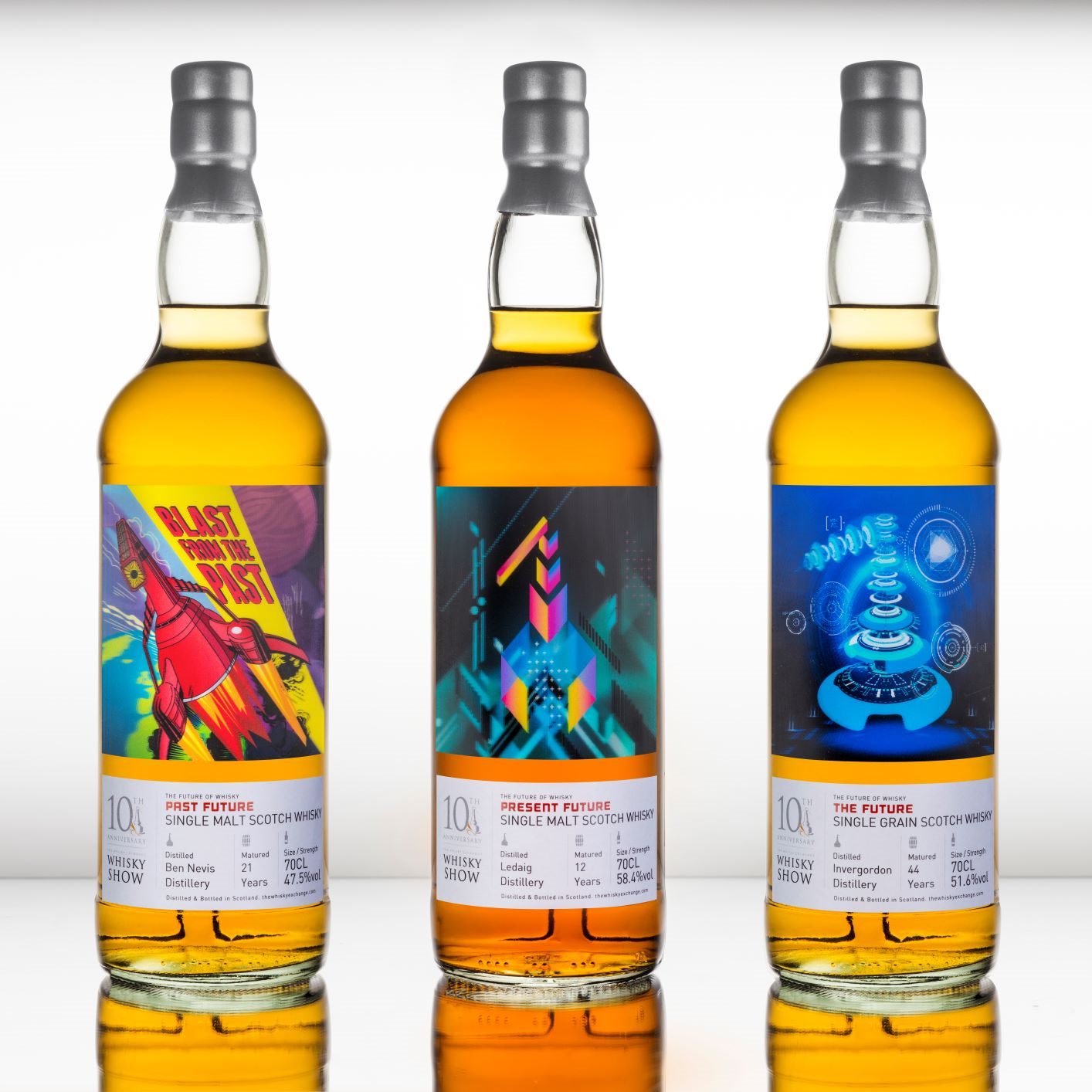 A set of three whiskies exploring the past, present and future. Each features an original design by Whisky Exchange creative director Raj Chavda, printed on a lenticular label. These moving, three dimensional images are incredible to look at, and reflect the quality of the spirit captured in each bottle.
'Past Future' - Ben Nevis 21 Year Old
47.5% / Sherry Butt / Single Malt Scotch Whisky / 144 bottles / £130
Nose: Stacks of fruit: apple sauce, pears, candied pineapple, dried guava and a handful of jelly tots. Brown sugar, nutmeg are threaded in between and drier notes of oak and crisp pastry develop.
Palate: Candy to start: barley sugar, glacier fruits and a hint of glacier mint. Creamy notes sit alongside marmalade, apple purée and tropical fruit chews. Leafy tarragon sits on top, and aniseed ball spiciness sits underneath
Finish: Mint fondant leads, with leafy herbs rolling in behind with a touch of apple sauce.

'Present Future' - Ledaig 12 Year Old
58.4% / Sherry Butt / Single Malt Scotch Whisky / 636 bottles / £74.95
Nose: Rich peat smoke rolls out of the glass. With the smoke come chocolate limes, freshly slapped mint sprigs, bung cloth and tarry ropes. At the core sits a balancing act between thick smoke and syrupy sweetness.
Palate: Ash, tar and rich chocolatey sweetness. Dark chocolate sweetness leads to After Eight mints, lemon Lockets, chocolate limes and salted caramel. Zingy menthol tingles on the tongue, along with a touch of icing sugar.
Finish: Tar, black pepper and lingering sweetness - chocolate, candied lemon and a hint of lime.
'The Future' - Invergordon 44 Year Old
51.6% / Hogshead / Single Grain Scotch Whisky / 246 bottles / £250
Nose: Toffee, caramel and varnished oak. Sultanas and dark brown sugar hide under the surface, pop-ping out in a burst of spicy lardy cake richness. The spice edges towards kola tonic sweetness as floral notes develop.
Palate: Soft, rounded and rich. More toffee and caramel are joined by vanilla sauce and brulée topping. The burnt sugar notes build and get fruity - spiced tarte tatin with a ladleful of red-wine poached pears. The sultanas from the nose get jammy.
Finish: Brown sugar and baked apples slowly fade to leave sweet apple and nutmeg.

Details of the Whisky Show 10th Anniversary series will be available soon...