We selected three single casks specially for Virtual Whisky Show 2020. They delved into three different aspects of whisky-making and highlight how they have changed over the years.
To further honour the theme, each bottle featured a unique label – a section of a larger design created specially for each whisky by The Whisky Exchange's creative director Raj 'MrC' Chavda.
For this year's show bottling, I wanted to create a series which reflected the concept that while each bottle is an individual it is also part of a whole. So every bottle in the series has a one-off label design – no two are the same.
Each bottle also featured a unique code, allowing the owner to claim their section of the larger design on The Whisky Exchange website and leave a message for whisky fans who are exploring each of the three ever-changing worlds.
AN EVER-CHANGING WORLD OF WHISKY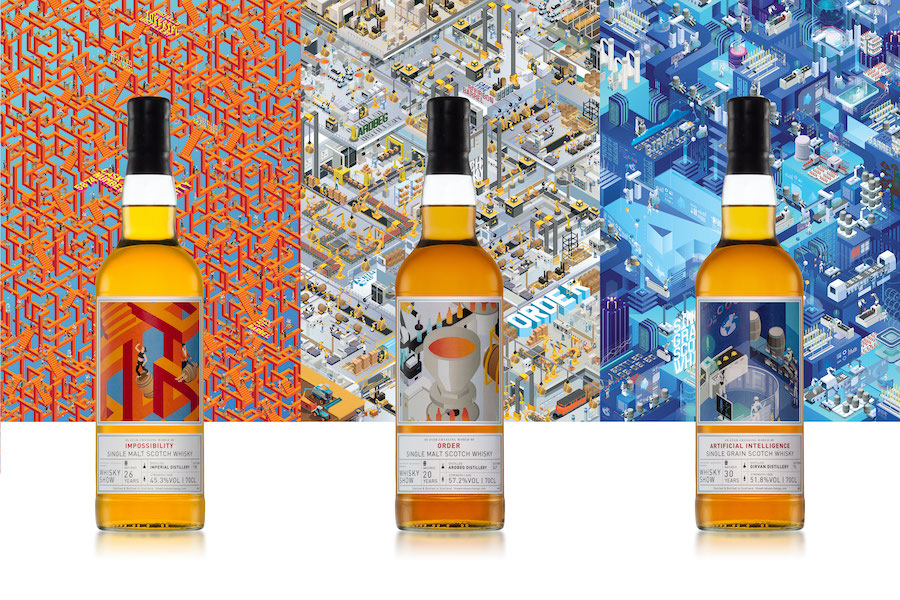 Expressing his ideas on Whisky Show 2020's theme, Raj has broken the concept of the ever-changing world across the three bottlings:
I designed three themes: The Ever-Changing World of Impossibility, The Ever-Changing World of Order and The Ever-Changing World of Artificial Intelligence. These ever-changing worlds are an interpretation of how everything is always in a state of flux.

The first is The Ever-Changing World of Impossibility, an abstract play on illusion and impossibility. The second in the set is The Ever-Changing World of Order, where we work in harmony with machinery. The last is The Ever-Changing World of Artificial Intelligence, where the future is run by robots and computers.
AN EVER-CHANGING WORLD OF IMPOSSIBILITY
IMPERIAL 1994 26 YEARS OLD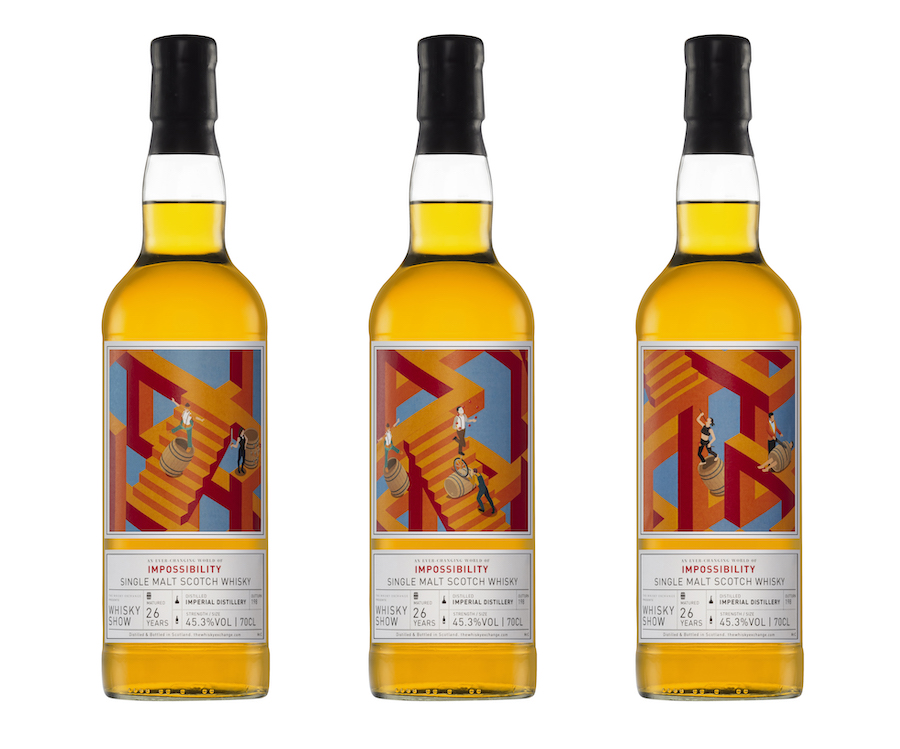 Imperial has not only been closed for years, but it has also been demolished and a new distillery built in its place – getting more whisky from Imperial is now very much impossible. This whisky was filled to a single barrel on 22 August 1994 and bottled on 11 September 2020 at 26 years old.
Nose: Preserved lemons, sugar flowers and freshly cut grass. Old-fashioned sweetshop notes of kola kubes, sherbet lemons and nut brittle develop. Sitting just behind is a ball of slightly sour fruit – fleshy Seville oranges and unripe mango – all balanced out by sweet, minty candy and sugared almonds.
Palate: Green grass and barley sugar lead to royal icing, buttermints and just-slapped mint sprigs. There's a touch of zing and darkness behind, with barrel char and stewed lemons joined by gentle spice. The spice softens to aromatic oak as the icing returns, accompanied by mint fondant creams.
Finish: Aniseed-ball heat and fresh-cut-oak spice give way to stewed Granny Smith apples, lemon zest and lingering spiced sponge cake.
45.3% ABV / 198 bottles / £199
AN EVER-CHANGING WORLD OF ORDER
ARDBEG 2000 20 YEARS OLD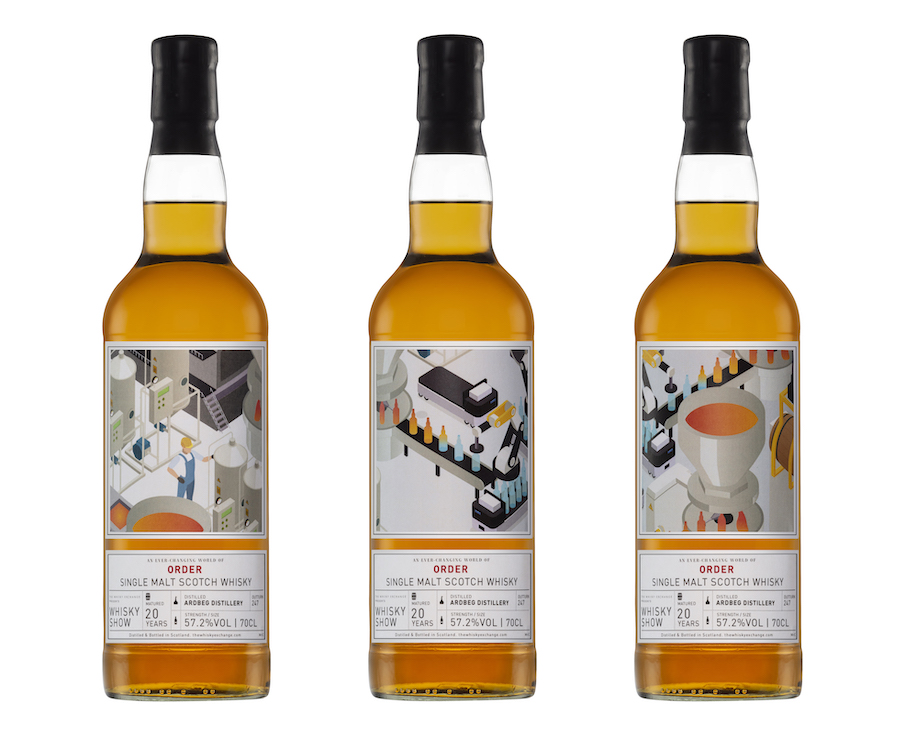 Ardbeg has long been a favourite of the Whisky Show team, and this bottling celebrates the distillery's mixture of technology and craftmanship that are combined to make its excellent whisky. This single malt was matured in a single ex-bourbon hogshead, filled on 6 April 2000 and bottled on 5 August 2020.
Nose: Sherbet lemons, crashing waves, rock pools and gravelly smoke. The smoke develops, revealing smouldering oak, singed caramel and a touch of creosote. A briny core is balanced by spiced toffee and candied lemon peel.
Palate: Rich and thickly textured – smoky toffee, leafy bonfires and a touch of mint chocolate. Lime notes build through the middle, with cinnamon heat and more chocolate. Creosoted fences and damp earth notes appear, followed by a splash of sea spray and a box of freshly opened bandages
Finish: Aromatic resin, stained wood and creosote. Sweet lime and gravelly smoke roll in and slowly fade to reveal lime fruit gums.
57.2% ABV / 247 bottles / £399
AN EVER-CHANGING WORLD OF ARTIFICIAL INTELLIGENCE
GIRVAN 1989 30 YEARS OLD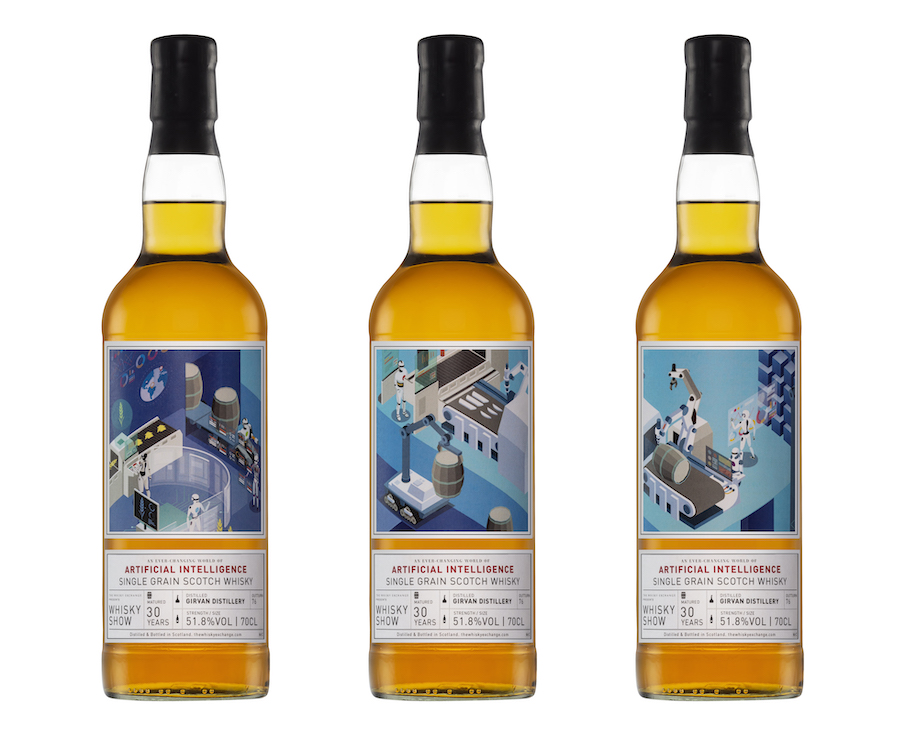 Girvan grain distillery doesn't look very much like a traditional distillery, with complex pipe work and wiring wrapped around tall columns. It looks futuristic and, while it's not changed as much as you might think since it opened in the 1960s, it is the futuristic side of the still-old-fashioned Scotch whisky world – the perfect whisky to examine a potential future of AI and automation. This whisky was filled into a single hogshead on 17 December 1989 and bottled on 9 September 2020.
Nose: Freshly varnished tables, beeswax polish, butterscotch, cinder toffee, caramel and hints of treacle. Portuguese egg custard tarts peek around the edges, complete with appropriately singed pastry, each sprinkled with freshly grated lemon zest.
Palate: A punch of sweetness is accompanied by dark, singed, treacle toffee, dark chocolate and barrel char. Blackcurrants and forest floor earthiness follow, with lighter caramel and toffee notes floating on top. A touch of vanilla cream and candied lemon peel sit at the back.
Finish: Cinnamon-spiced toffee, rich caramel and butterscotch linger, with polished oak slowly developing.
51.8% ABV / 76 bottles / £135
All three whiskies will be available from The Whisky Exchange website. Virtual Show ticket holders will have exclusive first access to the show bottlings. Details to follow.